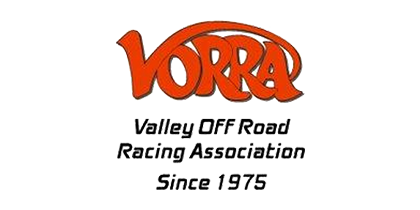 Visit the
Official Website
VORRA
Valley Off Road Racing Association (VORRA) was established in 1975 by Ed Robinson as a family-oriented organization. It is currently led by CEO Wes Harbor and Race Director George Henley, who believe that "off road racing has its roots in people's garages" and continue to keep the entry fees to a minimum while maintaining a high quality racing experience.
In 2009, VORRA created a new truck class called Group T. This combines several class types into one competitive group to fuel the racing spirit. Since its inception, Group T has grown in popularity and has quickly become one of VORRA's largest-attended classes.
The 2010 season saw the addition of Ultra 4 and Class 11 to the line-up, and Short Course races began a new 6-lap 3-Moto program replacing the 8-lap 2-Moto system. This change proved to be a successful one and will be incorporated in the following season.
The organization continues to evolve with the addition of a 500 mile desert race that takes place in the Northern Nevada area.
VORRA is the only organization to offer both short course races and desert races as part of its overall season championship. Events offer racers the option of competing in multiple classes for Cars, Trucks, Pilots, UTV and Trophy Karts.