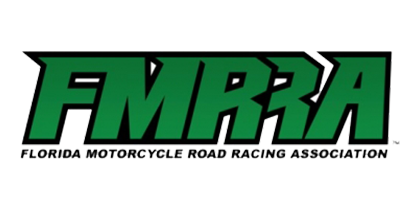 Visit the
Official Website
Florida Motorcycle Road Racing Association
Mission Statement:
Organizing competitive and safe motorcycle road racing weekends in Florida with a focus on providing a racer-focused and fan-centric atmosphere.
About Us:
Born from the creative minds at Florida Track Days and partner motorsports facilities, FMRRA is the culmination of years of customer feedback. This is a series created by motorcycle racers for motorcycle racers. We have collaborated with the largest local race shops and racers in creating a new rulebook focused on the racers' interest. This is a series built WITH the racer FOR the racer.
…
(FMRRA) Florida Motorcycle Road Racing

Association announces Sunoco Racing Fuels as the series' Official Fuel Sponsor!
The Florida Motorcycle Road Racing Association is proud to formally announce the two-year partnership with Sunoco Racing Fuels and Port Consolidated/Southern Racing Fuels. Sunoco RMR will be the spec fuel for the SuperBike classes, while 93-Octane Unleaded will be the spec fuel for all SuperStock classes.
Kicking off the season at PBIR in January, Southern Racing Fuels will be providing trackside service and sales of the RMR and premium race fuels. Racers can look forward to the lower operating costs with Sunoco products compared to other club series that have no fuel restrictions. For dyno/engine mapping setup Southern Racing Fuels in has stock pails and barrels available.
http://southernracingfuel.com
"We are excited to announce this two-year partnership agreement with Sunoco Racing Fuels. Not only will this provide a level playing field for the competitors, but it will dramatically reduce the operating expenses of a race season. The RMR and 93 Premium products from Sunoco Racing Fuels are race proven in both national and international series. The spec fuel partnership is one of the many reasons the FMRRA series is the most exciting, affordable, equitable option for Florida Racers"

– FMRRA Founder Tony West