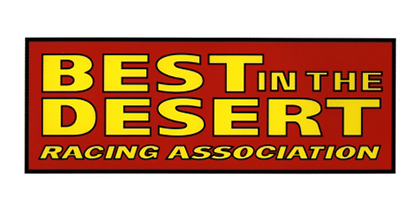 Visit the
Official Website
Best In the Desert
Marketing goods through off-road racing is becoming an ever-increasing means of enhancing public identification. Its status as one of the most exciting forms of racing in the United States and around the world, its heavy media coverage and the fast action of the sport, itself, add up to the most effective tools to sharpen a variety of marketing programs.
Growth and potential are the key ingredients making "THE AMERICAN OFF-ROAD RACING SERIES" the most attractive investment opportunity in off-road racing. With a sponsorship involvement smaller than in the more established sports events, "THE AMERICAN OFF-ROAD RACING SERIES" sponsor is guaranteed a much greater return on the investment.
2019 BEST IN THE DESERT Contingency Posting coming soon.
RULES:
Prizes are contingent upon exclusive use of Sunoco Racing Fuel during the event in an amount needed for the length of the race. Proof of purchase of Sunoco Racing Fuel used during the event will be required.
Two 8" Sunoco Racing Fuel decals must be visibly displayed, one on each side of race vehicle. Display of competitive fuel decals will void these awards.
Racer must complete a BITD contingency form for the race and declare Sunoco Racing fuel in use.
Awards may be pro-rated at Sunoco's discretion in the instance that there are fewer than four (4) starters for any given class. The amount of cash awarded for each place may be reduced by 10% for each starter less than 4.
Winners will receive contingency awards by mail upon receipt of BITD contingency report by the Contingency Coordinator at Paul Oil Company, Inc.
Sunoco Contingency:
Paul Oil Company, Inc.
PO Box 550
La Mesa, CA 91944
(619) 465-4212, Fax (619) 465-4788
Kerry Rauch – Contingency Coordinator
BITD Vendor:
ASB Performance
Bill and Terry Rodriguez
619 247-1797, 619 247-1798