Put Decades of R&D Into Every Tankful
When muscle cars first started rolling off the production line in the 1960s Sunoco's fuel stations offered 8 grades of fuel called Sunoco 190, 200, 210, 220, 230, 240, 260 and 280 in select markets. The customer could adjust the selector on the pump to choose anywhere between Sunoco 190 (87 octane) and Sunoco 260 (97.5 octane). Sunoco 260 was known as octane concentrate to many enthusiasts who valued quality, consistency and the octane needed to deliver the best performance. Sunoco's current 260 GT fuel is 100 octane and street legal which means it must abide by strict regulations and contain 10% ethanol.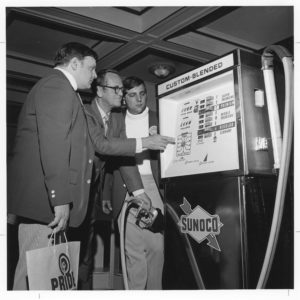 Photo from Sunoco archives. Courtesy of Hagley Museum and Library
For 94 years Sunoco has marketed around quality fuels that can fulfill the customers' demands. Over the years the fuel and auto industry have changed and incorporated cleaner fuels and more efficient engines. Regulations to remove lead from pump gas lowered the octane available to consumers. This poses a problem for muscle car owners who all too often find that products aren't made like they used to be. Many muscle cars have been detuned to run on lower octanes and often stored as garage art rather than enjoyed on the street. Sunoco recognizes the need for performance, quality and consistency with its full line of Race Fuels from 95 to 118 octane.
The Sunoco brand is legendary for propelling the Penske-Donohue team to dominate the Trans-Am series in the late 1960s. But don't think we are relying only on our past successes; Sunoco Race Fuels are still making fuels to meet every customer's needs. One example is Sunoco Surge; 105 octane, leaded and no ethanol. In fact, the lead content matches that of pump gas when classic cars were new. Surge is blended from extremely stable components so even after years of garage storage it will provide easy starting. No need to worry about adding stabilizers to any Sunoco Race Fuel because they come with a modern additive package to combat oxidation and corrosion in fuel systems.
Feel free to give us a call at 1-800-RACEGAS to talk about what fuel is best for your machine.
By:
Zachary Santner
Lead Chemical Engineer
Sunoco Race Fuels